Production and trade
Economic composition
Kenya's economy is market-based, with a few state-owned infrastructure enterprises, and maintains a liberalised external trade system. The country is generally perceived as Eastern and central Africa's hub for Financial, Communication and Transportation services. As of March 2014, economic prospects are positive with above 5% GDP growth expected, largely because of expansions in tourism, telecommunications, transport, construction and a recovery in agriculture.
Imports and exports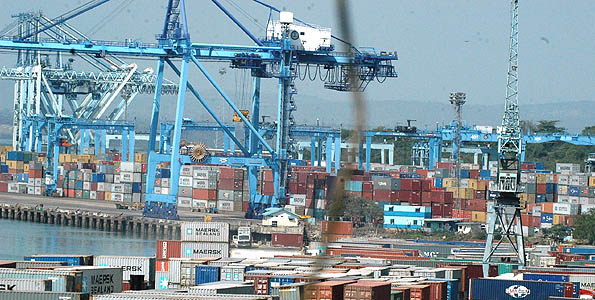 Exports in Kenya increased to 48832.81 Million KES in March of 2014 from 42648 Million KES in February of 2014. Exports in Kenya averaged 24229.12 Million KES from 1998 until 2014, reaching an all time high of 48832.81 Million KES in March of 2014 and a record low of 9007 Million KES in January of 1999. Exports in Kenya is reported by the Central Bank of Kenya.
Imports in Kenya increased to 107990.37 Million KES in March of 2014 from 107072 Million KES in February of 2014. Imports in Kenya averaged 54577.41 Million KES from 1998 until 2014, reaching an all time high of 136123 Million KES in August of 2011 and a record low of 13453 Million KES in January of 1999. Imports in Kenya is reported by the Central Bank of Kenya.
Market access
Kenya is signatory to a number of multilateral and bilateral trade agreements as part of its trade policy. Kenya is a member of the World Trade Organization (WTO) making her products access more than 90% of world markets at Most Favoured Nation (MFN) treatment.
In addition, Kenya is member to several trade arrangements and beneficiary to trade-enhancing schemes. Kenya is a member of the East African Community (EAC) comprising Kenya, Uganda and Tanzania with a population of more than 80 million people.
Kenya is also a member of the Common Market for Eastern and Southern Africa (COMESA) with a population of about 400 million people.
The national market
Kenya has a population of 43.18 million and a GDP per Capita of 862.23 USD.

Preferential access to regional and international markets
The country is member of the following regional organizations and trade agreements
Opportunities arising from political devolution
The implementation of the 2010 constitution has led to the devolution of significant powers to Kenya's x counties. This has led to the construction of new country government offices and displacement of civil servants and spending power from Nairobi to county capitals, with the attendant impact on local economies. The devolution of development funds to county budgets has also led to an increase in road and other construction at the county level. This has led to significant opportunities in construction and property development in the counties.
Energy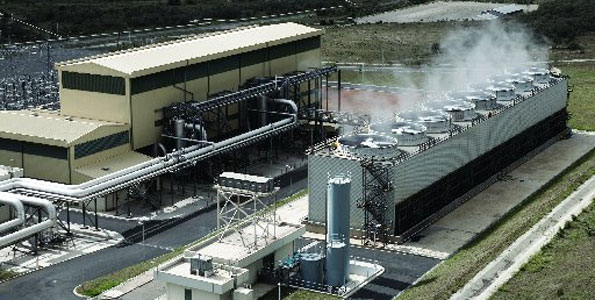 Kenya currently has an installed power generation capacity of 1,330 MW. Eighty percent of that is produced by KenGen, a stateowned company, which derives 65 percent of its power from hydroelectric sources. Thirty percent of its power is obtained from seven dams on the Tana River.
Thus not only is the country's power generation susceptible to climatic conditions, but with peak electricity demand currently at 1,191 MW and growing at seven percent a year, power outages during dry periods are frequent.
This gap is partly addressed through diesel generation. KenGen has an emergency power producer agreement with Aggreko for 290 MW. Separately, many businesses also own standby generators. Aware of the environmental and financial cost, the Government is encouraging the production of energy from renewable sources and has implemented a policy of feed-in tariffs to support this.
Chief among the energies being promoted, although not subject to a feed-in tariff, is geothermal power, for which there is an estimated capacity in the Rift Valley of between 3,000 and 5,000 MW, and which, since 1957, has already proved itself as a source of energy, albeit at a current output of 202 MW. To this end, the Government created the Geothermal Development Company. Its role is to prospect and develop blocks and then sell exploitation licenses to investors to develop steam turbine power generation plants. The first project consisted of 25 wells drilled in the Ol Karia field, which yielded 196 MW. The second project, currently underway is Menegai Phase 1 and consists of four blocks with an estimated capacity of 400 MW. GDC is mapping these blocks by drilling 120 wells. With further development, GDC estimates that the Menegai field could yield 1,250 MW. Overall, GDC hopes to produce 2,000 MW of steam and is seeking total investment of US$10 billion, of which it has already obtained a significant amount. Other geothermal projects include one by KenGen for 280 MW.
In addition to geothermal energy, the Government is keen to encourage wind power generation and several projects have been announced. This includes a 300 MW average capacity wind farm of 353 turbines on Lake Turkana (by Lake Turkana Wind Power), and a 60 MW wind power project on the Kinangop Plateau (by Aeolus Kenya).
Other sources being encouraged are solar, biomass and small hydro plants.
Investment Opportunities In the Energy Sector
Exploration of hydrocarbons and petroleum
Development of A 300 – 1000 Nuclear Power Plant
Bio-Fuel Production
Wind Power Generation
Solar Electricity Generators
Renewable Energy
Hydropower Development
Coal Exploration and Exploitation
Geothermal Development
Transformer manufacturing

Incentives for investors in the energy sector
The government has made available the following incentives available in order to encourage investment in the energy sector:
Letters of comfort to independent power producers.
The government undertakes and makes available resource assessments and feasibility studies to private investors.
The government is proposing, but yet to be legislated, fiscal incentives and facilitation assistance for investment in green energy.
Opportunities in geothermal energy
Kenya is endowed with vast geothermal potential estimated at between 7,000  and 10,000 MW. It is currently Africa's largest geothermal producer with 210 MW of capacity. Recent discoveries include a commercially exploitable geothermal seam in Menengai. The Kenyan Government has recently initiated the Scaling-up Renewable Energy Program (SREP) investment plan in line with its national renewable energy development strategy.

Tourism

Kenya offers fine natural attractions, combined with a network of hotels and game lodges that give visitors good value for their money. With its national parks, game reserves, marine parks, biosphere reserves, archaeological sites and pearly beaches, Kenya remains a natural tourism magnet. The most popular tourist attractions in Kenya are the wildlife and beaches. Others include museums, snake parks and historical sites.
However, many of these resources remain largely unexploited. Kenya currently receives about one million visitors a year, which is around half the number visiting South Africa. The main markets for Kenyan tourism in descending order of visitor numbers are the UK (who travel mainly by scheduled flights), the US, Italy, Germany, (of which the latter two mainly travel on charter flights to Mombasa), France and India. Emerging markets are growing in importance and the Kenya Tourist Board is focusing on them as well as Australia.
Focus is also growing on domestic tourism, which currently fills 35 percent of bed capacity and which ensures greater value-added for local operators. Regional markets are also growing in importance. For example, Uganda is a market for medical tourism while South Africans visit Kenya in search of a safer and more authentic experience. The further development of the domestic and regional market will provide an effective bulwark against any slump or disruption in the international market so as to depart from a past image of low cost beach tourism.
At the same time, Kenya is trying to diversify the offer both within the traditional beach and safari products as well as to new sectors. This is called the Brand Kenya initiative. The authorities are also keen to make use of EAC integration by promoting regional circuits. One area is in meetings, incentives, conferencing and exhibitions (MICE), which Kenya is well positioned for given its position as an African commercial and transport hub. It is estimated that such delegates spend an average of US$ 400 per stay, helping maintain an occupancy rate in Nairobi of 80 percent. This sector is currently focused on the Kenya International Conference Centre (KICC).
However, KICC is in need of renovation and with competition on the continent restricted to Cape Town, Cairo and Marrakesh, and a new 3,000-seat capacity conference centre built in Kigali, there is likely to be plenty of demand for new conference centres for which the Government is seeking investors in the towns of Mombasa or Kisumu.
The Government is also looking to tap into the growing sports and adventure tourism market. One proposal is to exploit Kenya's athletic reputation to develop high altitude training camps. Hiking can also be further developed around Mount Kenya as can other activities such as white water rafting, game fishing, and kite surfing. The Government is also keen to increase the provision of golf courses in the country, of which there are currently 45.
All these activities also require the provision of accommodation. New areas that the Government is keen to develop are the Western circuit, the Northern circuit and new coastal resorts. The Western circuit comprises Mount Elgon, the second highest in Kenya, Ruma National Park, which is famed for its rare species of antelope, Lake Baringo, and the area around Lake Victoria. The Northern circuit takes in a more arid landscape and comprises Lake Turkana, Kenya's second largest lake, the Tana River Basin and the North Eastern Province. New coastal areas include Lamu in the North and Shimoni on the border with the United Republic of Tanzania. Major resort developments are also taking place in Watamu and Kilifi, which are both North of Mombasa in an area famed for the quality of its beaches. Currently the largest investors in tourism are local private companies, such as Serena and Sarova, and the Kenyan Government. Smaller lodges tend to be owned by investors from the UK as well as from Kenya.
In order to encourage further investment, the Kenya Tourism Development Corporation (KTDC) can provide concessional funding, typically a US$ 500,000 loan on a US$ 3-4 million investment. KTDC can also facilitate land acquisition. Hotel and restaurant licenses as well as a tour operator's licenses are delivered by the Ministry of Tourism. Six-monthly health inspections are conducted by the local authority and the fire department is in charge of delivering fire safety certificates. With regards to land use, this must be approved by the local authority or the Kenya Wildlife Service if the facility is a game park.
Nevertheless, a number of challenges remain for the sector. Among these is security. While crime may have decreased, the effects of instability in neighbouring Somalia is being felt close to the border. With regards to promoting regional tourism circuits on a wider basis, the absence of a single visitor's visa for the EAC, and by extension a single visa fee instead of multiple ones, will discourage a more seamless integration.
Investment Opportunities in Tourism
Development of Resort Cities
Construction of International Hotel Chains
Investment in Conference Facilities
Entertainment Options – Amusement Parks, Clubs, Casinos, Theatres and Specialty Restaurants
Film Industry
Construction of Golf Cities

Construction of lake view resort in Kisumu
Water Sport
An entry point to the region: Serena Hotels
The Serena hotels and lodges are distinguished by the quality of their service and their attention to local tradition in architecture and decor. With roots in Kenya, Serena Hotels now operates throughout the Eastern African region as well as in Afghanistan, Mozambique, Pakistan and Tajikistan.
While it owns seven properties in Kenya (Nairobi, Mombasa, Amboseli and Mara, among others), it also owns eight properties in the United Republic of Tanzania (Lake Manyara, Ngorongoro, Serengeti and elsewhere), two in Uganda (Kampala and Lweeza), one in Burundi (Bujumbura) and two in Rwanda (Kigali and Gisenyi). The latter is now the scene of considerable expansion with plans to eventually expand to seven properties.
In seeking out new properties, Serena tends to focus on locations that have been bypassed by other business or luxury chains. Serena Hotels employs 1,200 staff in Kenya. Recognizing them as its greatest single asset it places much emphasis on employing local staff, providing extensive training, rotating them around its properties and promoting from within.
The Serena chain in Africa is the brand name of Tourism Promotion Services Eastern Africa Limited. TPSEAL has operated in Kenya since 1971 and floated nearly 39 million shares on the Nairobi Stock Exchange in 1997. The shares, then valued at KShs 13 each, now trade at KShs 57 each. TPSEAL owned 37 percent by the Aga Khan Fund for Economic Development (AKFED), which is incorporated as a commercial entity under Swiss law. AKFED, founded in 1984, is the only for-profit entity in the Aga Khan Development Network (AKDN), also based in Switzerland, and sees its aim as going beyond profits to encompass employment creation, human resource development, and the preservation of natural and cultural assets. AKDN has a history in East Africa going back to the late nineteenth century.
ICT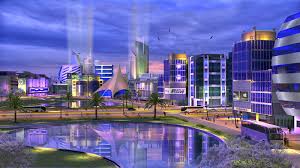 The installation of a broadband backbone connected to three undersea fibre-optic cables (Seacom, TEAM System and EASSY) has significantly improved Kenya's connectivity and prospects for the ICT sector, be it in business process outsourcing (BPO) or the development of IT-enabled services (ITeS).
The main operators in this sector are Technobrain (BPO and ITeS), Direct Channel (BPO and ITeS), Kencall (callcentre), Horizon (callcentre), Adept Systems (BPO), A24 (content provider), Craft Silicon (software developer for banks), Spanco (BPO servicing Airtel), and IBM (servicing Airtel). A number of Kenyan companies also have inhouse divisions. Further, regional offices have been set up by Microsoft, Google, Cisco, Oracle, IBM and SAP.
Currently, the sector is focused on the local market, providing services to banks, insurance, cable and telecommunications, power, water and other utilities. The size of this market is estimated at US$ 500 million and it is of note that companies such as Spanco, followed Airtel into Kenya to continue servicing them. However, in the medium term, it is expected to expand into the region both on its own account, given its relative sophistication compared to neighbouring markets, and in order to service its clients' expansion plans into the EAC and beyond.
However, Kenya has yet to use its assets in terms of human resources, English language and European time zone to make a significant impact on the world market. A reason given for this is the increasing sophistication and scale of required to compete at the global level or rival established centres such as India. Call centres, for example, are now required to deal with the total customer experience, which includes getting new customers, processing and analyzing data, verifying inventory and credit, identifying customers to whom to market new products and selling these, and data mining. In addition, this requires the technical capacity to integrate themselves into different companies' databases and systems, a capacity which companies in Kenya are only now achieving.
The Government has been an important driver in the sector. In 2010, the Ministry of Information and Communications, with support from the World Bank, established the Kenya ICT Board. Its role is to implement Government policy in this area through developing infrastructure and capacity. Important projects supported by the Board include the development of a technology park located near Jomo Kenyatta International Airport. Called Konza City, it will provide land and facilities for BPO and ITeS. It is also intended that it feature a science park, operated by the University of Nairobi, a financial district, conference facilities, schooling and accommodation. The Board is still open on how to develop it and is interested in working with investors.
Other parks that might be developed by private investors are Tatu City, to the North of Nairobi and Eldoret City. The Board is also undertaking other important initiatives that will create demand in the sector and spur further development. These include:
e-government applications for the courts system (principally case managements systems), online company registration, government procurement, land registration, immigration, e-signatures within government and e-voting;
a digital inclusion project to set up 290 digital centres around the country; and
providing better connectivity to and within universities. A key development has been the creation of a website called Opendata. The data contained provides many opportunities to develop applications to analyse and make use of that data both to commercial and social ends.
Investment Opportunities in ICT
Data Centre and Disaster Recovery Centre
Deploying of Digital Broadcast Network
Rolling out of E-government services
Multimedia Technology Parks (MTPs)
Software and Hardware Development
Communication Equipment in the security sector
Business Process Outsourcing Park (BPO)

Open data
Launched in July 2011 by the Ministry of Information and Communications, the Kenya Open Government Data Portal makes freely available online core government development, demographic, statistical and expenditure data that can be drilled down, where relevant, to the province or county level. 
It is aimed at researchers, policymakers, ICT developers and the general public. The Government expects that Opendata will have three main benefits. 
Firstly, the availability of information should provide an economic benefit in better identifying how savings and efficiencies can be made, and how service delivery can be improved. 
Secondly, it equips parliamentarians, policy makers, civil society and individuals with the data they need to analyze and make informed decisions. 
Thirdly, it is expected to contribute to transparency and accountability in providing detailed and timely information on the operations of government.
Opendata currently carries 160 datasets from different government departments. This includes the 2009 census, national budget data, nation and county public expenditure data, information on health care and school facilities. Other examples include soil maps, which could be of use to farmers. The raw data is also available for download so technical users and developers can analyze data and use it to build applications for the web and mobile.
Infrastructure
Kenya envisages a massive upgrading and extension of the country's infrastructure. In this regard, the country has highlighed a number of infrastructure projects that present significant opportunities for investors in the coming years.
It is important to note that while the Government has put forward plans on how it would like to develop infrastructure, it is equally open to ideas and proposals from potential investors.

Investment Opportunities in Infrastructure include:
Redevelopment of the Northern Corridor
Nairobi Metropolitan Mass Rapid Transit Programme
Building of  a standard gauge line to replace the current Kenya-Uganda railway
Design and Construction of a new terminal at Jomo Kenyatta International Airport
Development of a new corridor from Lamu to South Sudan and Ethiopia (LAPSET)
Private Sector Management of Nairobi-Thika Highway
Redevelopment of the Northern Corridor
The Northern Corridor comprises the road and rail network between the port of Mombasa and Tororo on the Ugandan border, taking in along the way, Nairobi and Kisumu. It is important transit route to the Great Lakes region (Burundi, D. R. Congo, Rwanda and Uganda) as well as the Northern areas of the United Republic of Tanzania. 
The corridor handles about 40 million tonnes of cargo annually including agricultural goods, cement, coffee, dairy products, fluospar, grains, paper, petroleum products, salt, soda ash, sugar and timber. 
With only six percent of cargo travelling by rail, investment is already taking place in rehabilitating the Kenya Uganda Railways under the private concession Rift Valley Railways. 
However, investment is still sought for the development of a commuter railways system around Nairobi (population 3.13 million) to allay the city's growing traffic problems. This will involve the rehabilitation of approximately 160 km of the existing rail system within the Greater Nairobi area and the construction of a spur to Jomo Kenyatta International Airport, as well as the rehabilitation and construction of new stations. 
Plans are also being made to build a standard gauge line to replace the current Kenya-Uganda railway. Parallel to the railways, the plan also envisages the rehabilitation of 368 km of road and the possibility of toll-paying dual carriageways, and the development of inland container ports to facilitate distribution and logistics.
A new corridor from Lamu to South Sudan and Ethiopia
The lack of capacity at the port of Mombasa and the creation of South Sudan and its strategic orientation towards Kenya has given new impetus to the development of a transport corridor from Lamu to Juba and Ethiopia.
This corridor would be composed of several elements:
A port, estimated at US$ 4 billion, would be situated in Manda Bay, a natural harbour that benefits from a 3.5 km entrance. It would have capacity for 20 berths and, with its deep waters and ability to accommodate large vessels, act as a transshipment hub.




A railway would connect Lamu to Juba over a distance of 1,720 km. Parallel to that would be a toll highway. Both would take into account the towns of Garrisa, Isiolo, Mararal, Lodwar, and Lokichogio.




An oil pipeline would also be required to enable South Sudan to export its oil via Lamu.




In addition, Lamu would be vested with a new airport, oil refinery and tourist resort.



The Government is keen to attract investment into these projects and envisages either direct investment or public-private partnerships.
It should be noted that the corridor and consequent transport infrastructure could enable further investment opportunities in agriculture. Twenty four million hectares of land along the corridor could be used for livestock production. Furthermore, 9.2 million hectares have potential for crop production if irrigated from the Tana Delta and Athi and Tana rivers.
Nairobi Metropolitan Mass Rapid Transit Programme
The Nairobi Metropolitan Mass Rapid Transit Programme consists of the following projects:
Rapid light rail
Provision of Non-motorized transportation
Closed Circuit Television (CCTV)
Parking system
Geographical Information Systems (GIS) Planning and Mapping of the Metropolitan Region.
Export Processing Zones
The EPZ Act was passed in 1990 and created the Export Processing Zones Authority (EPZA) as the regulatory body.
Most EPZs are close to Nairobi or Mombasa, with the largest at Athi River, 25 kilometres from Nairobi.
It should be noted that operations such as horticultural farms can also be designated EPZs. The largest single investment by a company in an EPZ has been De La Rue in security and printing (US$ 48 million).
Investors in EPZs benefit from a range of fiscal incentives. These include a 10 years tax holiday followed by a 25 percent flat tax for the next 10 years; exemption from all withholding taxes during the first 10 years; exemption from import duties on machinery, raw materials, and inputs; no restrictions on management or technical arrangements; and exemption from stamp duty and from the VAT on raw materials, machinery and other inputs. However, investors must fulfill certain conditions when applying for a license (developer, producer, service or trader) to operate in an EPZ.
At least 80 percent of production must be for export. This needs to be justified by letters from potential buyers. In addition, anything sold locally, within 20 percent of output, must be approved by the Minister and will be taxed at the normal rate.
Plots in EPZs can be bought on 50 year lease or rented. At Athi River, 1 hectare plots cost US$ 5,000 per annum or US$ 100,000 for 50 years. There is an additional 15 percent service charge and a US$ 1,000 annual license fee.
Main foreign sources of EPZ investment are from China, Taiwan Province of China and India. The African Growth and Opportunity Act (AGOA) has brought in a large number of investors in the garment sector, although there is uncertainty over the duration of the third country provision.
In addition, the expansion of the EAC customs union has restricted the usefulness of EPZs as a platform for exporting to the region. To this end, the Government is looking at moving towards Special Economic Zones of the type present elsewhere in Africa under which investors can have access to quality infrastructure to produce both for the local and foreign markets.
At the same time, the removal of offshore status make it easier for investors to source from Kenyan suppliers, thus creating backward linkages into the local economy.
Manufacturing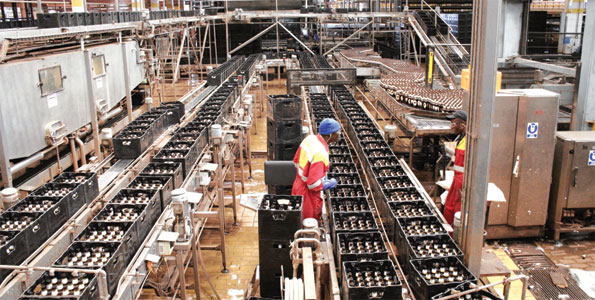 This sector is mainly agro based at the moment and plays an important role in adding value to agricultural output by providing forward and backward linkages with agricultural sector. However, there is a shift to export oriented manufacturing as the main thrust of Kenya's industrial policy since the country aims to raise the share of products in the regional market from 7% to 15 % and develop niche products for existing and new markets.
Kenya is promoting development of Special Economic Zones (SEZs), Industrial Parks, Industrial Clusters, promotion of small and medium scale manufacturing firms, development of niche products, commercialization of research and development results.

Investment opportunities in Manufacturing
Development of Industrial and manufacturing Zones
Development of Small and Medium-Enterprises (SME) Parks
Micro and Small Enterprise (MSE) 2030 Initiative Project
Agro-processing industry
Chemicals industry
Motor vehicle components manufacturing
Iron and Steel Industry
Manufacture of Aluminium Cans
Component Manufacture

Agriculture
Horticulture
With a combination of active government support, favourable agro-climatic conditions (22°C-30°C in the day, 6°C-12°C at night and 60-80 days of rain), availability of low-cost farm workers and the know-how, reach and financial weight of foreign investors, matched by the year-round demand for certain vegetables in international markets, and direct air connections to Europe, horticulture has emerged as one of the country's fastest growing sectors within agriculture, making Kenya a major exporter in this field. Horticulture production is divided into fruits and vegetables on the one hand, and cut flowers on the other.
Fruits and vegetables
Participation by foreign investors (mainly Dutch and British) in the growing, processing and export of fruits and vegetables has been significant and has helped secure market access and raise quality, both to meet EU sanitary and phytosanitary standards and additional ones, for example those set by the British Retail Consortium. The most common vegetables are fresh beans (French beans, fine beans and dwarf beans), fresh peas (mange tout, sugar snap and garden peas), brussels sprouts, broccoli, courgettes, and baby carrots. 
Cut flowers
There has been a cut flower industry in Kenya since the 1980s. However, it is only since the 1990s that foreign investment has enabled the industry to acquire new technologies, upgrade quality control and improve infrastructure. Principal flowers exported from Kenya are roses, spray and standard carnations, statice, alstromeria, lilies and hypericum. Peak periods for this sector include Valentines Day, UK and European Mother's Days, Easter, St Nicholas, Christmas and France for New Year's Eve.
The floriculture industry, located for the most part on the shores of Lake Naivasha, but present in a number of areas through the Rift Valley and Mount.Kenya region, is vertically integrated, depending to a large extent on outgrower arrangements (more so than fruits and vegetables). Small cut flower farms in Kenya produce and sell their flowers to larger local Kenyan or foreign companies, which control, grade, bunch and export the flowers via cold storage facilities at Jomo Kenyatta International Airport in Nairobi. The industry employs 2 million people, or 7 percent of the population, directly and indirectly.
Certification
In response to requirements introduced by buyers in international markets with regards to standards of environmental management, product and food safety, quality, traceability, and the occupational health and safety of workers, the two main horticultural producer groups, the Fresh Produce Exporters Association of Kenya and the Kenya Flower Council have both launched codes of practice, which are benchmarked to the international Global-GAP (good agricultural practice) initiative. Fruit and vegetable producers are certified under Kenya- GAP, while cut flower producers are certified under the Kenya Flower Council's code of practice
Oserian Flower Farm, Naivasha
Oserian was established in 1969 as a five hectare family-owned farm producing white and green asparagus. It also incorporated an agrochemical business, later sold to Bauer Ltd. In 1982, the company diversified into cut flowers, starting with statis, which it exported to the Netherlands. At the time, it was the first flower farm in Africa. Since then it has grown to be, at 256 hectares, the largest single farm in Kenya, producing an average of one million stems a day. Flower varieties include carnations, lisianthus, flox, rascus, snap dragon, solidago, sunflower, and spray roses.
Flowers are picked every day between 5 a.m. and 6 a.m., are packed by 9 a.m. and are at Jomo Kenyatta International Airport by noon where they are placed in cold storage. At 11 p.m. they are loaded onto cargo flights and are in a depot in Rotterdam at 11 a.m. the next day. Twenty fours later they are at supermarket warehouses across Europe, and 60 hours after picking are on the supermarket shelf.
Oserian's strategy hasn't just focused on growing its operations in Kenya. It also set up its own auction house in the Netherlands, now sold, called Teleflora, specifically for imported flowers. The auction house was complemented by marketing arms in the UK and mainland Europe, enabling Oserian to directly supply UK supermarkets.
Over the years it has had to overcome a number of challenges. These have included initially high freight costs, clearances for EU sanitary and phytosanitary standards, and the high quality requirements of EU customers. In 1985 the Government of the Netherlands banned Kenyan flower imports, though this was short-lived.
The company has invested significantly in research and development. It is now producing scented roses with a guaranteed seven-day shelf-life, and in partnership with the Kenyatta Agricultural Research Institute is working on new varieties of strawberries with taste colour and sweetness for the local market, as well as disease resistant yam, cassava, sorghum and millet. It is also examining natural remedies to avoid pesticides. The farm is certified Fairtrade, Max Havelaar, Leaf, Kenya Flower Council and Global Gap.
Oserian has placed great emphasis on its social and environmental commitments. All staff are housed or provided with allowances. Medicine, transport and work gear are provided as is severance pay, funeral allowances. An onsite vocational training centre offers courses in driving, computing, carpentry and other subjects, enabling staff to move to higher paying posts. Furthermore, all energy needs are provided onsite through two geothermal plants.
Investor-ready projects
The Kenya Investment Authority has published a list of investor-ready projects. Please see below.